Tuesday, November 24th, 2009
Thankfully 3 of them were screenings so that equals FREE.
My review for 'Up in the Air' is right there below this.  That was Thursday…
Friday was 'An Education' and Saturday we saw 'Where the Wild Things Are.' Proper Morning Afters to come…
Sunday was 'The Fantastic Mr. Fox' and let me tell you, what. a. DELIGHT!  Sometimes things and people converge in a way that I think the art god is like 'here you go, Angela' like it's just for me and if someone else likes it well congrats to you but this right here is MINE.  (See: the band Them Crooked Vultures.)  So Wes Anderson doing Roald Dahl is a match made in my own private heaven and it turned out sassier and more fun than I could have even anticipated.  I don't even understand really… How do you make something that off the cuff, random, silly, amusing, clever, absurd and charming in the most laborious medium possible?  Well, I guess Pixar does it on a regular basis, but still.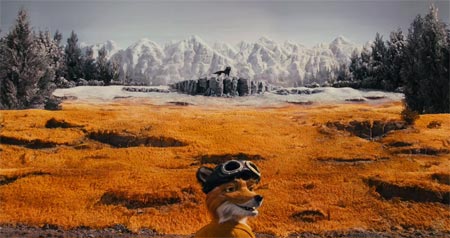 'I asked him if we were due for a hard winter.'
And so maybe I am genetically predisposed to love but there's something in there for you as well, promise.  I took Dan and Andy and they both liked it, sure the beer beforehand and my unceasing giggle probably helped…
I give it 10 'Cuss Yeah!'s.
And then Monday was 'New Moon'.  Before I entered the theater I had my capsule review all ready.  It was gonna be something like, 'If you went to see this then you liked it.'  But then I went to see this, and I didn't like it.  I was frankly, bored.  I know I know.  I know it all, I know this book is lame and so they didn't really have a choice and that Bella is a mopey drip and that Jacob is a totally enticing option except that he's not cause he has the face of a baby, crazy abs or no.  Spending 3/4ths of the movie in their not-a-love-story was such a yawn.  The Volturi were badass, Dakota Fanning and Michael Sheen were having fun, but they were in the movie for like A second.   So I'm sorry that 100% of the guilty pleasure I took in 'Twilight' was completely wrapped up in the dirty and intriguing creature that is Robert Pattinson.  There, I admit it.
4 'watch check's, 2 hot body 'dyyyyyyaaaaamn's, 3 'really Bella?' eyerolls, 1 R.Pattz hair drawing: