Wednesday, July 22nd, 2009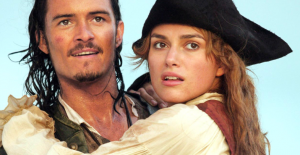 Orlando and Keira in 'Dead Man's Chest' – we could totally live without you two.
So I was attracted to this article on the Hollywood Reporter webby because of Johnny Depp. Of course. However, I kept reading because all of the discussion over the Pirates franchise. According to the article, we're looking at a new director, a lower budget and, likely, no Orlando or Keira. Okay, that last part I could totally live with.
But seriously!? What? Did At World's End not put enough cash in the bank? Not enough licensed merchandise? Hardly. Disney? Answers please.