Wednesday, July 22nd, 2009
Oh, 'Hurt Locker', how I long to see you!!!!  It's in select theaters now and it goes wide on Friday. Who's in?!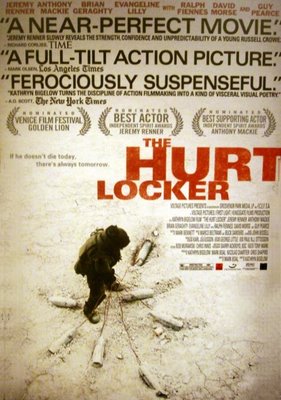 The title alone isn't bad ass enough for you? What's it about, you ask?  In short: An intense portrayal of elite soldiers who have one of the most dangerous jobs in the world: disarming bombs in the heat of combat.   Directed by Kathryn Bigelow ('Point Break'!!) from a script by Mark Boal, A.O. Scott says it's the best nondocumentary American feature made yet about the war in Iraq.  And then he says, "If "The Hurt Locker" is not the best action movie of the summer, I'll blow up my car."
Now who's in?
Check out this Anatomy of a Scene.   Uuuuuuum, whoa.
Jeremy Renner, here, stars:
Grade prediction: A.  Rating prediction: 8 chewed fingernails, 2 heartattacks.