Friday, July 17th, 2009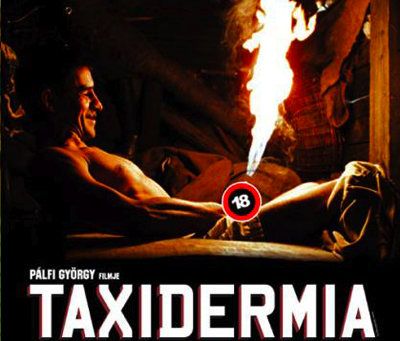 I found this charming press photo with a little '18′ censor circle over his package – for you sensitive folks out there.
Oh, foreign film. How I love thee. I was wandering around the Apple trailers site and stumbled across Hungarian filmmaker Gyorgy Palfi's Taxidermia. Wow. It's like Delicatassen meets Amelie, horrifying and charming all at once. The synopsis? Why sure:
TAXIDERMIA contains three generational stories, about a grandfather, a father, and a son, linked together by recurring motifs. The dim grandfather, an orderly during World War Two, lives in his bizarre fantasies; he desires love. The huge father seeks success as a top athlete — a speed eater — in the post-war pro-Soviet era. The grandson, a meek, small-boned taxidermist, yearns for something greater: immortality. He wants to create the most perfect work of art of all time by stuffing his own torso. Historical facts and surrealism become intertwined as magical realism, like in the works of Gabriel García Marquez or the Hungarian writer Lajos Parti Nagy; the script is based on two of the latter's stories. Palfi added the third story, that of the grandson the taxidermist.
- From Apple trailers website
It's set for limited release here in the States on August 14th. I'll be catching it at the Nuart on the Westside.
Here's the official website (worth checking out for sure) and here's the trailer: