Thursday, August 20th, 2009
'Avatar' – James Cameron's long in the works, super highly anticipated sci fi alleged masterpiece released a teaser.
Go HERE to check it out and then we can discuss.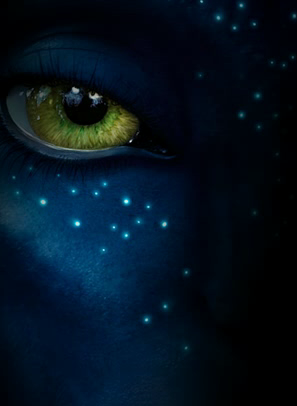 Eyeball.
Welp.  I'm underwhelmed.
Maybe this is a leap, but I think 'District 9′ is gonna fuck all this up.  Sorry for the crudeness, but after seeing that rooted, raw, terrifyingly real aliens-on-earth scenario this… just… seems… meh.  Like it's trying too hard, right??
CGI on CGI kissing?  Care.
D9′s Prawns were so tactile.  These blue guys?  Not so much.  If I care when that one Avatar? (Zoe Saldana I'm gonna assume) starts to cry I will be shocked.  And the oh-so-blue (today's theme) makes it look too fantasy.  Which I mean in a bad way, not in a legitimate genre kind of way.  Sci-fi and Fantasy are different, says Roman from 'Party Down.'  But those creatures do look kind of dragon-y so maybe it is both sci-fi and fantasy and wow, stop me, I'm going in circles.  Basically, I thought James was a sci-fi guy, therefore fantasy would be an insult.
Honestly though, there's just no way this movie could hold up to the amount of anticipation, and I feel kind of bad.
It all has such a feeling of 'out with the old, in with the new' to me and Neill Blomkamp is the new James Cameron, all perfectly timed and up in his face like that.
Poor James?  Or is this what happens to self-proclaimed kings of the world…