Wednesday, July 8th, 2009
Well, shoot, how fun is this?
LA Times says:
In short videos, Joseph Gordon-Levitt, Zooey Deschanel, Channing Tatum, Will Arnett and Cheech and Chong, among others, are re-imagining some of the films they love, with a twist and shout-out.
"It's kind of like watching a movie and having it derail in your own head," says Kashy Khaledi, whose Mean magazine has joined with Microsoft's Zune to put together the new Web series "Cinemash."
As reigning member of the CTCC (the Channing Tatum Crush Club) I am most excited about the Dirty Dancing webisode featuring him and Charlyne Yi.  And also curious if it will turn my opinion on Ms. Yi, cause really how bad does Paper Heart look?  Just ask Nina.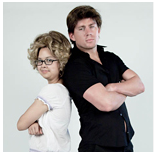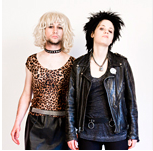 Here is the first post featuring the always adorable Joseph Gordon-Levitt and the maybe-waning-but-still-cute Zooey Deschanel as the flipped title characters from Sid and Nancy.
And here is the release date page for all the webisodes.
I love shit like this.