September 18th goes down as my first international film festival experience.
And it started early in the day. My first elevator ride upon arriving at the hotel was shared with none other than Indie darling Peter Gallagher.
It was a short ride but still he managed to charm with his floppy hair, sport pants and spectacles.  I was like 'shooo we gonna be seein mad celebrities up in here!'  Amanda was like 'he looked familiar.'
What other superstars did the Toronto International Film Festival plan on throwing our way?  None.  But we did see a horde of youngins' (mom accompanied) waiting outside our neighboring hotel.  Me: 'Who are you guys waiting for?'  Lady: 'The Jonas Brothers. *eyeroll* Not me. *shrugs to nearby young ladies* Them.'
Our first film screening was 'The Invention of Lying.'  Co-written and starring Ricky Gervais.  Cast includes Tina Fey, Rob Lowe, Jennifer Garner, others.  It's about a world where no one knows how to lie, but then Ricky's character invents the concept when he almost gets evicted.  He gets very rich, invents religion, un-invents religion, bags Jennifer Garner.
It had some funny moments but some major problems, for sure.  Mainly, the universe in which this story takes place is very mean spirited.  Sure, ok, I can't lie, but why am I also really really negative?   There was no goodness in the world until the lies started coming.  I find that to be a strange conceit.  And also, I think Ricky and I need to have a nice chat because he has some serious body dysmorphia.  The guy doesn't let 10 minutes go by without someone mentioning how fat he is.  Bro, a slight belly does not obesity make.
I could go on, but you won't see it, I doubt many people will, so I'll stop.
Then!  It was time for our screening of 'Hipsters' directed by Valery Todorovsky, straight out of Russia, co-produced by our very own Leonid Lebedev.  Julie's dad y'all!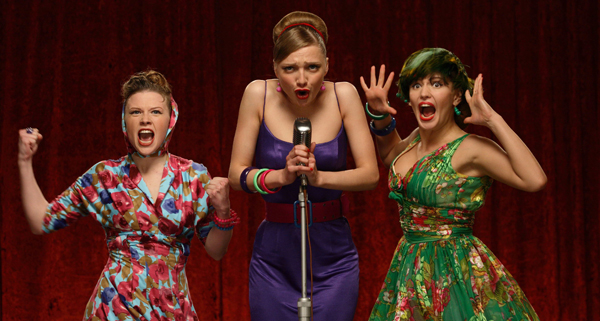 It was indeed this bright.
And very entertaining.  And this is where we voted it as 'best movie ever' :
So then the next day… we went to Niagara Falls.
Ok, well, I got in one full day of an international film festival.  It's a start!
Tags: Hipsters, the Invention of Lying, TIFF