It's that time of year again boys and girls, geeks and nerds, super men and women, vampires and werewolves, playas and pimps, Hollywood and hipsters, young and old. Comic Con is back for its 40th time around in sunny San Diego and CC shows no signs of going through a mid-life crisis. It get's radder every year. Con had it all.
I wish I could have been there from the beginning with Wednesday's Preview Night  all the way through to the end on Sunday. But honestly, just one day was more than enough to wipe me out. I wouldn't have been able to make it through the entire schedule even if I wanted to (I probably would have ended up passed out on the floor at the Masquerade Ball After-party…more about that later).But the crew I was rolling with don't play (you'll meet them later); started on Wednesday and finished at 5pm on Sunday. Check out my rhyme scheme suckas…"check one. check one-two."
This year's excitement about Comic Con was insane. It's been a few years since I've gone last and although I didn't have any tickets this time around (sold out), I was determined to get in. Even Nina wanted to attempt a sneaky break-in to Comic Con with me using her ninja-like abilities but ultimately dropped out. I know you're regretting that poor decision Nina! Fortunately for me, I was able to work some magic and swooped up on 2 professional passes, of which I gave one to my partner in crime, Calvino. I guess I dodged a misdemeanor…this time.
Saturday was gorgeous! But then again, almost everyday is gorgeous in San Diego. Cal and I got suited, booted, and made our way to downtown. Parking in the Gaslamp District was ridiculous. I felt like I was in LA again but with cleaner and crisper air. Over the past few days, thousands of people mobbed into SD's huge convention center . We ended up paying $20 to park in a lot across the street and 3 blocks east from the venue. Prime location! And for $20, it was still a steal. Immediately after parking, a bike cabby rolled up on us. These guys go around the Gaslamp in downtown SD looking to give lazy people like us rides in their bike carriages. Although we were just across the street from the venue, and didn't necessarily need a ride that could have taken us 2 minutes to walk the short distance, our lazy asses still negotiated a deal to be driven for much cheaper than the initial asking price of $7 per person.
Entering the futuristic sliding glass doors of the Convention Center, with barely a simple glance at our badges from any security personnel (they looked like they were counting down the hours and minutes until they could get off the clock), you can feel the intense energy bubbled inside the structure wanting to explode. We were met by Christie of the Ha Ha's, T-Slick, and Travis (dressed up as the fat kid from the 3D movie, "UP)." In the few hours we were at Comic Con (1:30 PM-til morning) we managed to have the most fun that any of us has had all year. Here are some highlights:
People were lined up for days at the Paramount Pictures booth waiting to get a pic with some of the Orion slave girls from Star Trek. I know they're green, but they're still sexy even when not in sparkly silver bikinis and instead, in the Enterprise starship uniforms.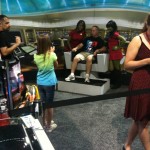 I was about to woop some ass at the Capcom booth playing Marvel vs. Capcom but instead got the munchies and bought a $9.00 burger that tasted like a $2.00 burger.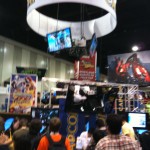 Although I wasn't around for a lot of the panels for upcoming films like "Twilight – New Moon" and James Cameron's "Avatar," I happened to see the line for the Iron Man 2 panel. Let's just say that even Marvel and Paramount employees were getting turned away. Guy Ritchie's "Sherlock Holmes" was another film being promoted that gained a lot of attention.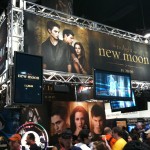 I learned that in next season's "Fringe," the character "Charlie," played by Kirk Acevedo, "might" not be around. But then they followed up saying that he'll still be involved in the series. Which is it? Maybe he'll be coming back as some crazy creature or he would get sent back to the mental institution where he was once held. Whatever the case may be, I ain't watching it if he ain't in it. I can't stand that Olivia Dunham breezy. That's probably why I cut my cable.
Nerd tail was the number one priority on the agenda at Comic Con. You'd know what I mean when you see the pics.
We eventually left the Convention Center around 5:30 PM to grab a pitcher at the nearby Hooter's Family Restaurant (yes, it's a family restaurant…just with bigger boobies than your wife's). The Haunted Hotel usually sets up shop in October during Halloween season but had its doors open during Comic Con. One of the goons from the show was scaring the bejeeesus out of the two girls trying to sell us "magic capes." I got CB'd (short for cock blocked) and figured that was our cue to leave and head for the True Blood happy hour party at the Bondi Restaurant starting at 7:00 PM and where the rest of the crew was waiting for us. They were serving free booze and food for 3 hours!
On our way to Bondi, the funniest thing happens. If you know Cal like I do, you'll know that he's a huge Harry Potter fan. I see a short teenage girl dressed up as Harry walking towards us on the sidewalk. As she walks past Calvino, he utters the words, "Wingardium Leviosa!" And before I could start laughing, she yells back "Avada Kedavra!" For those of you aren't too familiar with Potter, let me me put you up on game. "Wingardium leviosa" is the levitation charm and "Avada Kedavra" is the killing curse…can you say, "Ghosted!" She was not joking around.
Once we got into Bondi for the True Blood happy hour party, that's when the mood changed from comic con frenzy to comic con madness. The party was just getting started. They were giving away free shirts that said, "Fang Banger" and the new "Tru Blood" drink fashioned after the ones on the show. After about 10 "Tru Blood" cocktails (the next morning I thought that I had rectal bleeding before realizing that what caused my turds to turn red was all those red "Tru Blood" drinks I kept downing), we went to the Masquerade Ball AfterParty in the convention center. More nerd tail to be had! Just imagine a sea of costumed Comic Con badge holders getting crazy to house and techno music. We thought our night would finally end there around midnight when the dj had to pause the music and stop the party for a few minutes so that the paramedics could haul a girl off who was passed out on the floor (we later saw her walking it off…what a soldier). But nope…we decided to top it all off with a little clubbing at the upscale and trendy Ivy Hotel in the Gaslamp where even us nerds clean up well. Nerdtailin' and cupcakin' until 2AM!
Christie's quote sum's it all up:
"349 MORE DAYS UNTIL COMIC CON 2010! Dude, today is such a depressing day. We are all bummed out that Comic Con is over. I mean…did we not have the best time ever? WE HAD THE BEST TIME EVER!"
This was the best Comic Con to date (all this during a recession). Can't wait to see what next year will bring.
Tags: Avatar, Fringe, Iron Man 2, Kirk Acevedo, New Moon, Paramount Pictures, Sherlock Holmes, Star Trek, True Blood