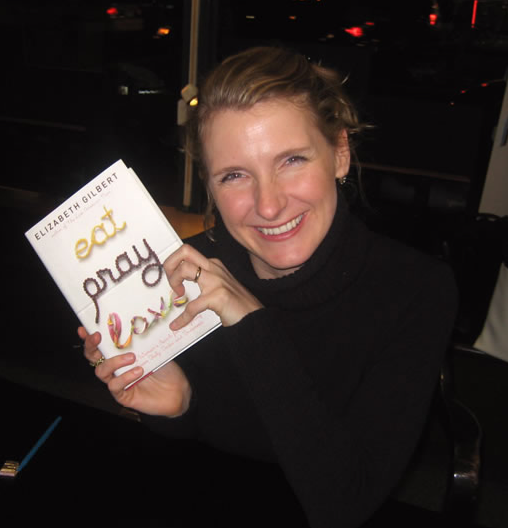 Elizabeth Gilbert with what many call her 'book.' Sorry Lizzie, I call it a collection of notes.
While waiting for the trailers to start before 500 Days of Summer, Angela and I ended up discussing Atonement. She said the movie blew but the book was really good. So yesterday, while I was accessing public wi-fi at the library, I decided to pick it up. I'm on page 54 and while I'm a little bored with the plot, it is a beautifully written novel.
In that same conversation, I happened to have brought up Eat, Pray, Love and how much the book blew and thank goodness it wasn't being made into a movie – oh, wait. Shit.
According to The Hollywood Reporter, Viola Davis (best supporting actress, Doubt) is in negotiations to take a role alongside Julia Roberts in the film adaptation of the bland, 'hey-look-at-me-I'm-having-a-mid-life-crisis' book. Since we're not in the business of reviewing books here, I'll leave it at that. Luckily, Ryan Murphy and NOT memoir author Gilbert wrote the adaptation so the film has a fighting chance. Needless to say, I'll pass on this one.
Tags: Eat Pray Love, Elizabeth Gilbert, Julia Roberts, Ryan Murphy, Viola Davis