Darren Aronofsky, in a warm post-'The Wrestler' glow, is in the news today for scoring financing for a supernatural ballet thriller 'Black Swan' – sounds cool, no?  Natalie Portman is in talks to star.  Which after her 'Thor' attachment news begs the question, what did this bitch do in her former life that was so right?
Problem is!  Aronofsky is already working on a reboot of 'Robocop' for MGM.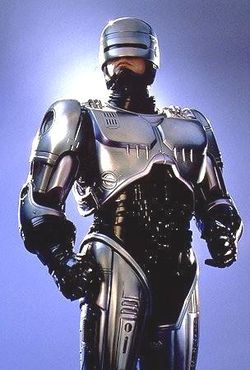 Remember me??
Hmm, that sounds good too….
MGM might shop around for new directors, or they could just wait for Darren to become available, cause as the Risky Biz blog I'm stealing all my info from states:
MGM has been cautious about the number of movies it's releasing, and is concentrating at the moment on projects such as the 80′s reboot "Red Dawn," the male-centric comedy "Hot Tub Time Machine," and a "Poltergeist" reboot.
MGM is also behind the new 'Fame' coming out this summer.  MGM!  THAT IS A LOT OF REBOOTS!!!
And it's kind of funny actually to think of a Robocop reboot.  Cause he's like a robot.  And they should be rebooted.  It's in their nature.
Digression.
Anyhoo, I hope Aronofsky can fit both movies into his sched.  Cause he's the coolest, and that's a big fat duh.
Tags: Black Swan, Darren Aronofsky, MGM, Natalie Portman, Robocop