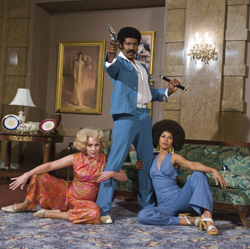 (Left) Michael Jai White as Black Dynamite / (Right) Black Dynamite with a couple of Ladies of Leisure
Out of the crisp, white, celebrity-laden snow of Sundance (AND Edinburgh AND Tribeca) has emerged one baadasssss Blaxploitation flick – Black Dynamite. Those of us who only wish we had experienced the supa fly seventies have a reason to rejoice.
Unlike the more recent nods to Blaxploitation (Jackie Brown, Undercover Brother, Snakes on a Plane, etc.), the Ars Nova production is not a remake, not a parody nor does it simply star Samuel L. Jackson. Judging by the trailer alone, the film sports all the elements of a true Blaxploitation film: gun-packing, heroin-slinging bad guys; a kung-fu fighting, pimpin' hero and, of course, the Ladies of Leisure.
Unfortunately, since it's been picked up by Sony, the website has gone tame, though it's still informative. Slated for a December 4th release, I simply can't wait to Foreplay this one. For now, we'll have to settle with a wink, a smile and a trailer:
Tags: Black Dynamite, Blaxploitation, Flirting, Foreplay, Ladies of Leisure, Michael Jai White